USA to Europe Power Plug Adapter: An Important Thing to Have Before Travelling
source:yuadon
Date:11/15/2019
Travelling from US to Europe for the first time? Don't know how you could keep your cellphone or camera recharged in somewhere new. Here comes a comprehensive guide to all things you need to know about US to Europe power plug adapter.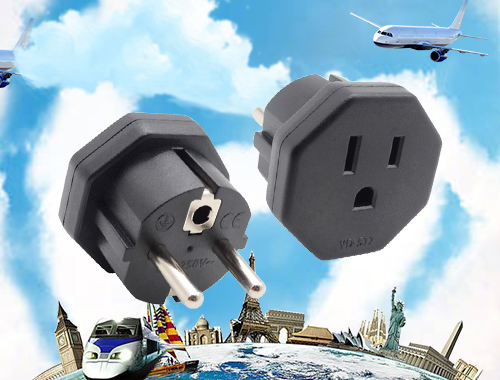 Do I need a plug adapter?
When you are traveling to Europe, one of the most important things to bring is a power plug adapter, as the wall sockets are much different than in America. The types of outlet plugs in the United States and European countries are offering different prong shapes and voltages. In America, the power plugs are of type A and B plugs (two-pronged plug). The standard voltage is 120 V and the standard frequency is 60 Hz. While most of European countries use C or E/F type plugs. Most sockets in Europe have high levels of power (typically 220 volts), twice the voltage of American power systems. It may be way too much for your appliance. So make sure that you possess an US to Europe power plug adaptor when packing your luggage.
Where can I get a qualified US to Europe power plug adapter?
It's great that there are a lot of power plug adapter suppliers online and one where it´s guaranteed that they supply high quality power plug adapter products is Guangzhou Yuadon Electric Co., Ltd.. As a professional and experienced plug adapter manufacturer and exporter in China, Yuadon has developed a new US to Europe power plug adapter product. Interested? Here are the features and functions of this new product for your reference:
1. The rated current is 15A/16 amp and the rated voltage is 250 V.
2. The outside casing is made of eco-friendly and fire-resistant PC material with a good touch feeling. The inner cord material is solid brass which makes the plug adapter durable.
3. The octagonal design provides a classic and elegant looking.
4. Travelers from North American or South American countries such as US, Canada, Mexico, Columbia, Brazil etc. will need this US to Europe power plug adapter when traveling to European countries such as France, Germany, Russia, Greece, Netherlands, Norway, Denmark, Sweden, etc.
5. It is a plug converter for some small power equipment or facilities.
Yuadon is a leading company where to produce and export high quality power plug adapter products. Being a professional plug adapter manufacturer in China, Yuadon's plug and socket products also possess many authoritative certificates, including UL, CUL, the British BS1363, Sweden SEMKO, the European Union CE, ROHS, REACH, RASH, Germany TUV, Australia SAA, RCM, China CCC etc. Not all companies offer quality guarantee to overseas customers and the fact that Yuadon does it, makes them a great and reliable plug adapter supplier. Yuadon has exported their plug and socket products to more than 100 countries and regions. Please feel free to contact their sales team at sales02@yuadon.com if you are interested to be their distributor.