The Benefits of European Waterproof Socket
source:yuadon
Date:04/24/2020
Sockets are particularly common in our daily life, however, except some sockets used in the bathroom, they are normally not waterproof. As a socket used in modern industry, some special properties are required when necessary, such as fire-resistance, waterproof, dustproof and other characteristics. Industrial waterproof sockets are generally safe, reliable, durable, and versatile.

There are three main benefits of industrial European waterproof sockets: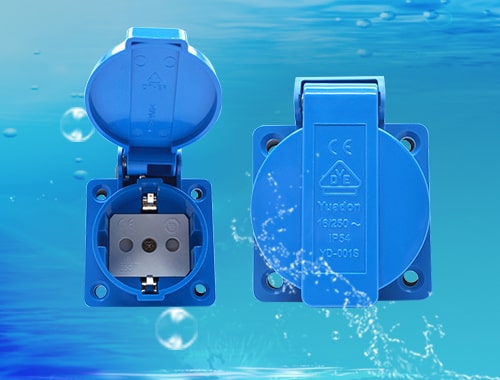 1. Safety and reliability
First of all, the benefits of industrial European waterproof sockets are safety and reliability. As different specifications of these industrial waterproof sockets products have different diameters, pole numbers, and ground contact positions. Only the same specifications can be plugged into, thereby preventing accidental insertion. Moreover, there is protection against electric shock. The grounding pole socket in the socket is longer than the phase pole and neutral pole sockets. This ensures that the grounding pole is connected before the phase pole is connected when the plug is inserted, and the grounding pole is finally disconnected when it is pulled out. Industrial water sockets also have high level of protection such as IP44 which can be used under different environmental conditions to ensure safety.

2. Durability
Industrial European waterproof sockets are also more durable than ordinary sockets and have good mechanical properties. The product shell is made of high-quality engineering plastic, which has high strength and impact resistance. The rubber or plastic used are anti-aging, and can be used not only indoors, but also outdoors. The shell and internal insulation parts have heat resistance, so the industrial sockets are also flame retardant.

3. Wide Application
There are many specifications and varieties of industrial waterproof sockets, which can be applied to various occasions and places, such as: mini type gasoline dynamotors, open air tools, electronics, petroleum chemical industry, airports, iron-making and steel-making, generator industry, railway, construction site, mine, post-mining land, water treatment plant, just to name some.

There are so many plugs and sockets manufacturers in the market. How could you choose a qualified and trustworthy industrial waterproof sockets supplier from them? Here, we indeed recommend a professional industrial waterproof sockets factory named Guangzhou Yuadon Electric Co., Ltd. (Yuadon in short). Yuadon has been in the market since 2009, and has been specialized in manufacturing and exporting the below products: plugs and sockets, international power adapters, power connectors and others. Since the establishment of their company, they can proudly say that they have their customers' needs and requirements as a priority, also their mission and business philosophy is to utilize the advanced technology to build their brand in the global market.

Yuadon's industrial European waterproof sockets have many international certifications including CE, ROHS and TUV which ensure they are made of the highest quality materials and can work properly. The European socket is EU/Schuko/Germany socket style which is suitable in the following countries: Germany, Austria, the Netherlands , Spain ,Turkey, Ukraine etc. Moreover, there is a great advantage of this company that they provide one-year guarantee service to their customers.