What Makes Yuadon's Schuko Plug Converter Better Than Other Manufacturers?
source:yuadon
Date:09/11/2019
What are the most important things when wholesalers or distributors choose a trustworthy plug converter supplier? Here, I would like to recommend one of the leading plug converters manufacturers in China: Guangzhou Yuadon Electric Co., Ltd. which has been manufacturing plug adapters and converters for more than 10 years. Yuadon has obtained a leading position in the industry of electrical plugs. Take Schuko plug converter for example, let's see it together what makes products by Yuadon better than other manufacturers.

Features of Schuko plug converter:
Known as Type F/E, Schuko plug converter is mainly used in most of European countries like Germany, Austria, the Netherlands, Sweden, Finland, Norway, Portugal, Spain and Eastern Europe. Type F has two round pins and the addition of two grounding clips on the side of the plug. It can be used up to 16 amps in applications, above that, it may cause damage to your device.

Why use Yuadon schuko plug converter?
Here are a few reasons that you should to choose Schuko plug converter made by Yuadon rather than other manufacturers.
• The outside casing is made by superior ABS material which feels good when users hold it in their hand.
• The inner wiring is made with solid high-phosphorous copper that makes it a good conductor of electricity with longer service life.
• It has a distinctive shape and nice looking.
• We already know that the Schuko plugs create the earth-contact with the socket. But how does it help? This earthy-contact helps in a way that this ensures safety. The Schuko plug by Yuadon gets into the captivity of the socket, leaving no space for physical contact. This way, a circle of safety is created. Most people with kids in their homes prefer the Schuko plugs to ensure safety. All heavy appliances that take a lot of electricity to run, use Schuko plugs so that there is no escape of current and the user stays safe. Yuadon Schuko plug converter is eco-friendly and safe to use.
• The production workshop of Yuadon has occupied 3000 square meters area and its one-day production capacity of Schuko plug converters is 20,000 to 30,000 units. Yuadon has a big inventory and the quality of its converters is excellent. The fast delivery and high production capacity of Yuadon has made it better than other manufacturers.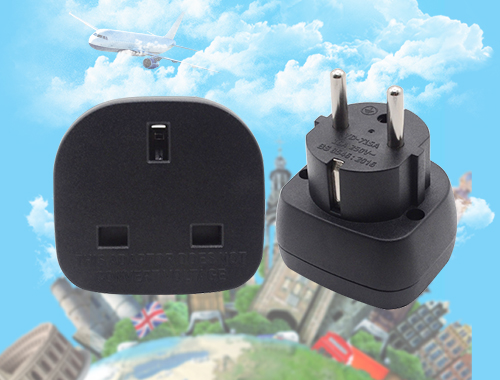 All the tourists who plan to visit Europe for a longer period must make sure they are equipped with Schuko plug converter. So that, they can be care-free to use their devices connected to the electricity. They must prefer a Schuko plug converter with both excellent functionality and reliability. The plug wholesalers can find these good quality Schuko plug converters from Yuadon. As a professional plug and converter manufacturer and exporter, Yuadon could provide the superior quality products, good service and fast delivery to their customers. Should you have any question or inquiry about Yuadon's Schuko plug converter, please just contact them at sales02@yuadon.com.