How Good is Yuandon's South Africa To EU Plug Adapter? One of The Best Travel Companions!
source:Yuadon
Date:06/30/2020
Most of us usually forget to bring a power adapter with us when we travel to foreign lands. It is one of the most forgotten things when we pack our bags. And similarly, one of the most sought after items when we try to charge our electrical gadgets while on the go. All the places we visit usually do not have the same power pin configuration that we have at our homes or which are supported by our electrical devices such as laptops, mobile phones, or even beard trimmers.
This is why we have decided to bring one of the best power adapters into your notice: Yuandon's 16A South Africa to Germany Plug Adapter. It is made by probably the best South Africa to EU adapter manufacturer and is available online to purchase anytime you need one. Let's dive into some of the features it has to offer: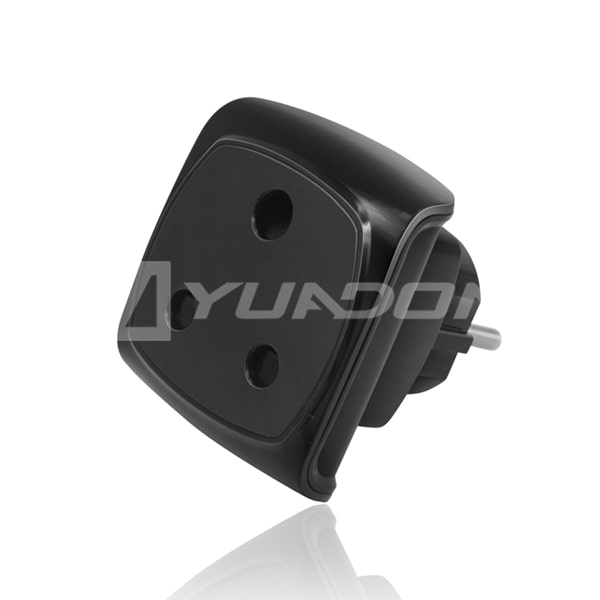 Latest Design:This power adapter comes in the latest designs and multiple colors. It converts D type plug (India/South Africa) to E/F type plug (EU 2 round pin). It offers compatibility to all of your electrical gadgets such as laptops, cell phones, power banks, and other devices. The looks and design of the adapter from South Africa to EU adapter manufacturer compliments the looks of your latest tech gadgets. You won't feel out of place once you plug it in the socket.
High-Quality Standards:This power adapter is made by keeping high-quality standards in mind. People with significant quality understandings have pitched in their ideas to make this product the safest power plug adapter in the market. It is made up of super PC and the pins are 100% copper made. This takes care of the awesome electrical conductivity.
Eco-Friendly and Fire Resistant:South Africa to EU adapter manufacturer has made this power plug adapter environmentally friendly in nature. It supports recycling once dismantled, and every part of this product can be repaired if broken. The material used to manufacture this adapter is also fire resistant. This makes the short-circuit fire disaster out of the question.
It is Durable and Sturdy:The most common place we might keep this power adapter is either inside our backpack or attached to one of the plugs of our charging cables. These locations could be dangerous if it was a poorly built product. However, this power adapter is sturdy and durable. It will not break off that easily and will be there with you for a long span of time.
Now that you know the benefits of Yuandon's South Africa To EU Plug Adapter, why don't you give it a go and check it out for yourself? It is super cheap and won't make any dent in your pockets either. If it stops working during the first year of purchase, you will still be eligible for guaranteed service by the manufacturer. You will not find another power adapter in the market, which is of the same quality, well designed, and economically feasible. Check out their product website for more information about the power adapter.